Adventures in vegetarianism continued…These potato, mushroom enchiladas (with kale) are a mashup of a recipe my friend Theresa passed along and something similar that I had in West Virginia last week (because cheese)….yum!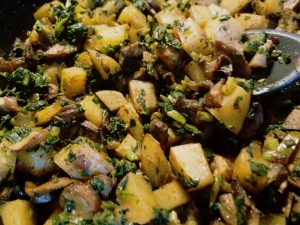 Potato, Mushroom and Kale Enchiladas
August 8, 2017
: 4
: 20 min
: 40 min
: 1 hr
: Medium
Ingredients
4 large Yukon Gold Potatoes
1 Yellow Onion (diced)
2 cloves Garlic (minced)
8 oz Mushrooms
3/4 cup Low Sodium Vegetable Broth
1 tsp Pickled Jalapenos (minced)
1 tsp Chili Powder
Pepper to taste
1 handful Kale (sliced)
2 1/2 cups Enchilada Sauce
8 Tortillas
Directions
Step 1

Preheat oven to 350 degrees

Step 2

Boil potatoes in enough water to cover for 5 minutes, drain.

Step 3

Saute onion and garlic in 1/4 cup broth until softened

Step 4

Add another 1/4 cup broth and mushrooms, cook till softened

Step 5

Add last 1/4 cup of broth, spices, and potatoes

Step 6

Stir until heated through and bubbly

Step 7

Stir in kale and remove from heat

Step 8

Lay potato mixture down center of each tortilla and roll

Step 9

Coat bottom of baking dish with some sauce, lay each enchilada, seam side down.

Step 10

Cover with remaining sauce

Step 11

Cover dish with foil and bake for 30 min, removing for final 5 minutes to brown top.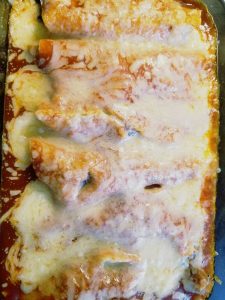 Enchilada Sauce
8oz can of Tomato Sauce
1.5 Tablespoons of Chili Powder
1/4 teaspoon Ground Cumin
1/4 teaspoon Onion Powder
1/4 teaspoon Garlic Powder
1/8 teaspoon Ground Pepper
2 Tablespoons Cornstarch