Adventures in Vegetarianism Continued…Is it Winter?  Or is it Spring?   Smashing together a forever long winter into some Spring like weather with Gnocchi in a Nutmeg Al Fredo, Mushrooms & Shallots Sauteed in White Wine, Spring Mix dressed in Red Pepper Vinaigrette, and topped with a soft-cooked egg.  The cheesy Al Fredo sets the base, for the chew of the mushrooms and the crunchy acidic greens, all brought together with a velvety yolk.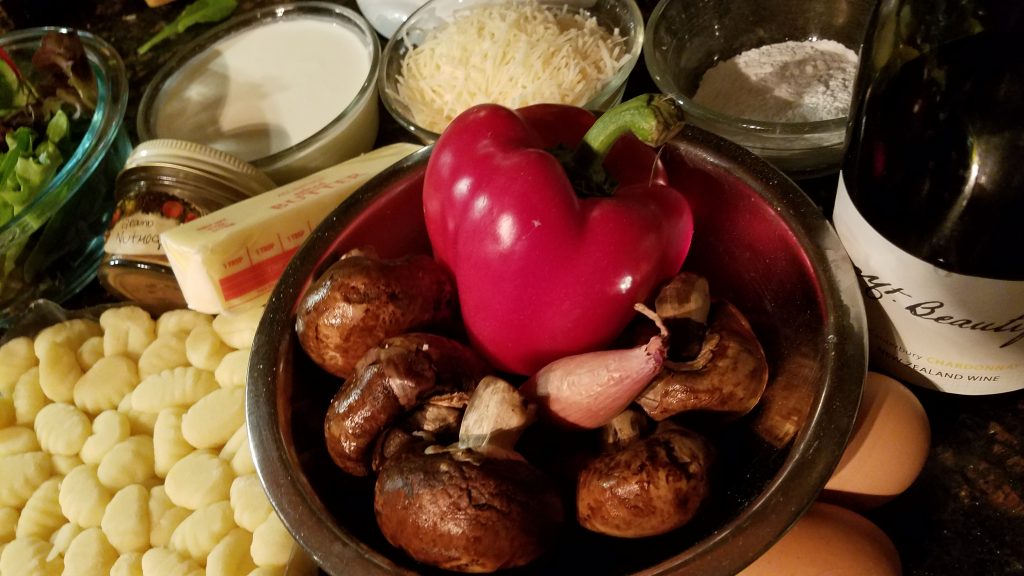 Gnocchi in Nutmeg Al Fredo with Mushrooms
April 23, 2018
: 10 min
: 20 min
: 30 min
: Medium
Ingredients
1 lb gnocchi
5-6 medium mushrooms, portabella, sliced
1 shallot, minced
1/4c white wine
eggs
salt & pepper
olive oil
scallion, for garnish
NUTMEG AL FREDO
1/4lb butter
1 tbsp flour
1c heavy cream
1c milk
1/4 tsp nutmeg
1c shredded parmesan
SALAD
2c spring mix
1/2c red pepper, diced
1/4c red wine vinegar
1/4c olive oil
Directions
Step 1

Start water boiling for gnocchi, add some salt.

Step 2

Prepare and cut vegetables, measure ingredients.

Step 3

In small bowl, combine red pepper, red wine vinegar, olive oil, salt and pepper.

Step 4

Heat oil in pan, add shallots, simmer, add mushrooms, salt, let saute.

Step 5

Heat butter, add flour, whisk, let foam develop.

Step 6

To empty pan, heat oil for egg.

Step 7

To mushrooms, add white wine. Remove from heat.

Step 8

To butter, add cream and nutmeg, simmer until foaming

Step 9

Drop gnocchi in boiling water.

Step 10

To butter and cream, add cheese, milk, whisk. Remove from heat. Season as needed.

Step 11

Remove floating gnocchi, into sauce.

Step 12

Fry egg, covered, 2-3 mins

Step 13

Dress salad and plate with gnocchi and mushrooms

Step 14

Finish with egg, scallions and black pepper

Step 15

Enjoy!